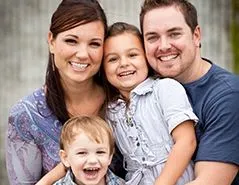 While it is common for children to experience occasional problems and moodiness in their lives as they grow and mature, there are times when turning to a child therapist can be especially helpful. Here are some common reasons parents decide to take their children to see a therapist:
poor grades
developmental delays
inattention
impulsivity
aggression or violence
trouble making/keeping friends
sibling rivalry
victim of bullies
loss of a loved one
parental divorce or separation
low self-confidence
performance anxiety
excessive anxiety
defiant attitude
temper tantrums
angry outbursts
irritability
sadness
victim of abuse or trauma
A child therapist will often use play and art therapy to help children learn to verbalize not only their feelings, but also new solutions to their problems. Play and art therapy, combined with "talk" therapy, helps the therapist build trust and rapport with even the youngest client, providing many opportunities to share feelings, identify problems, and build life skills. Additionally, a child therapist can help your child develop problem-solving skills, coping mechanisms, and stress-diffusers.
---
Text or call me today at 661-287-4243 or, if you prefer, e-mail me and I'll get back to you as soon as I can – please don't wait any longer! Let's get started – I will help you find balance, strength, and confidence.